TOYOTA ELECTRIC REACH TRUCK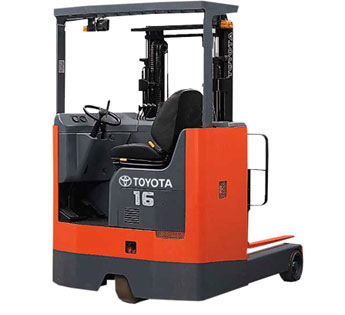 TOYOTA 6FBRE
Here is the culmination of of Toyota's exclusiv blend of advanced technology and fatigue fighting comfort in a design premise known as techno-comfort. Techno-comfort forms the focal point as Toyota blends the know-how it has gleaned from over forty years of industrial vehicle manfacturing together with the advanced technology it has developed through its extensive ongoing research and development.
The result is true comfort. Of course there is the comfort the operator will notice immediately. This includes low operating noise, clear visibility throughout the lift stroke, strategically positioned controls that have a smooth, proportional response and a low floorboard that enhnces entry and exit ease.


Download the spec sheet for TOYOTA ELECTRIC REACH TRUCK - 6FBRE

TOYOTA ELECTRIC FORKLIFT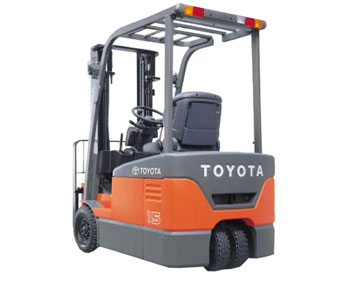 TOYOTA - SERIES 7 FBE
From the versatility of the latest control technology to the comfort and operability delivered by our ergonomically designed operator compartment, Toyota's 7FBE redefines 3-wheel electric forklift quality and productivity. Just look at a sampling of the manoeuvrability, reliability/durability and easy service access features our 3-wheel electrics offer. It's easy to see that these dynamos were designed with you in mind. Our 7FBE forklifts combine the proven performance, reliability and operability of Alternating Current (AC) Power technology. Operator comfort is key with improved visibility and ease of service.


Download the spec sheet for TOYOTA ELECTRIC FORKLIFT - SERIES 7 FBE

TOYOTA ELECTRIC FORKLIFT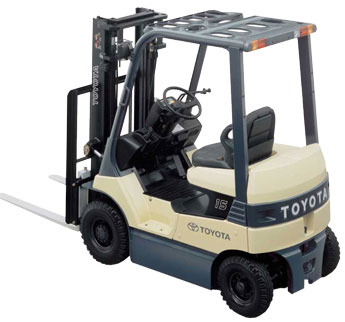 TOYOTA SERIES 7 FB
Just a glance tells you that the 7FB is distinctly different than any other electric forklift you have ever seen. And that difference is more than just appearance.
The 7FB is the first Toyota electric forklift to harness the benefits of AC Power and the System of Active
Stability (SAS). This trend-setting 7FB is a major leap in the evolution of the electric forklift design and another shining example of Toyota's continuing quest for excellence.

CROWN COUNTERBALANCED WALKIE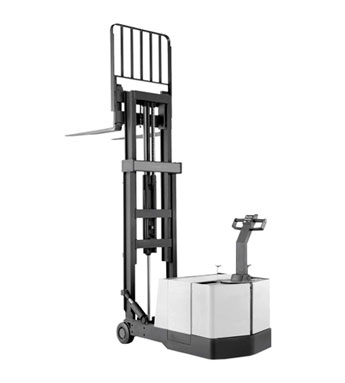 WB SERIES, SC4000, FC4000


Counterbalanced lift trucks offer versatility and conventional design. various tyre options offer good inside/outside capability.


Capacities range from 1300kg to 3000kg and lift heights up to 7.5 metres.



CROWN INTERMEDIATE STACKER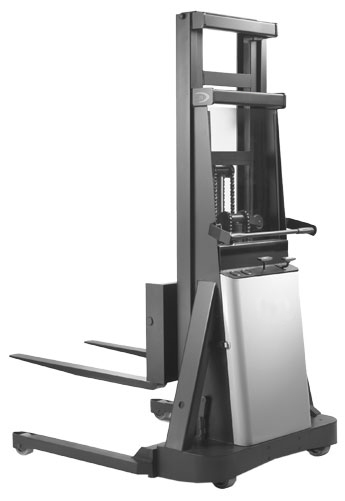 B SERIES & M SERIES
Fabricated from steel plate and bar stock completely shotblasted prior to finish coat. Base plate formed from steel plate and reinforced with protective bumper skirt. Vertical guide mast assembly welded as an integral part of main chassis. Guide mast channels on telescopic models are a special, hot-rolled steel
section designed exclusively for lift truck use.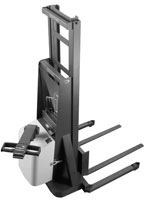 CROWN STACKERS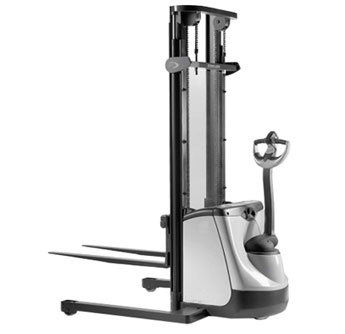 ST/SX 3000 SERIES


The ST/SX 3000 Series benefits from Crown's design and engineering excellence.
The transistor control module works in conjunction with a new separately excited (SEM) drive
motor to provide excellent acceleration and top travel speed loaded or empty. Transistor
control is programmable for specific tasks or operator skill levels.
Smooth travel and lift combine with excellent controls to reduce product damage and increase
productivity.


A built-in 30-amp charger is standard with all battery packs. This premium fan-cooled, solidstate
charger is durable and efficient. It has an advanced memory feature to allow for opportunity charging. The
charger can be set for either maintenance free, wet cell or industrial batteries. An extension cord is included with any truck equipped with the built-in battery charger.



CROWN NARROW-AISLE REACH TRUCK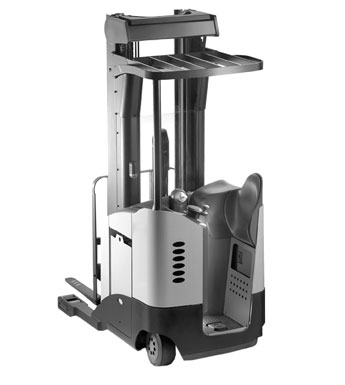 RD5200 SERIES


Deep Reach
3000 lb. Capacity


The Industry's Best Space Utilization


A productive, durable workhorse, the RD 5200 offers the best space utilization in the industry, without compromising operator comfort. That's because the most advanced technology, design and performance - coupled with Crown's exclusive Access 1 2 3® Comprehensive System Control provides unmatched control for the operator and service team.
CROWN WALKIE REACH STACKER SERIES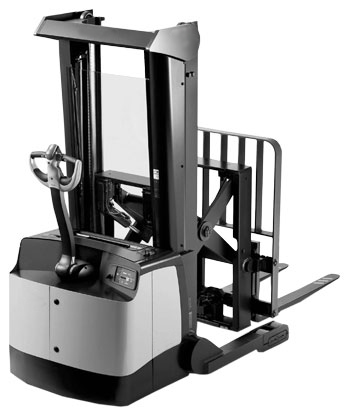 SHR5500 SERIES

Flexibility Within Reach

The SHR 5500 Series combines the maneuverability advantages of a straddle stacker with the application flexibility of a counterbalanced stacker. The SHR 5500's AC traction system, heavy-duty mast, and pantograph reach mechanism work together to deliver more efficient load handling and positioning.
WD2300S SERIES
Control Handle
The award-winning X10® handle simplifies control, thereby boosting operator safety and productivity. Tactile and visual differentiation of controls provides a natural, more efficient interface.
Fork and outrigger lift controls are conveniently located within fingertip reach.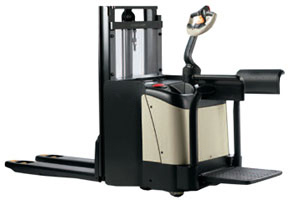 CROWN SIT-DOWN RIDER LIFT TRUCK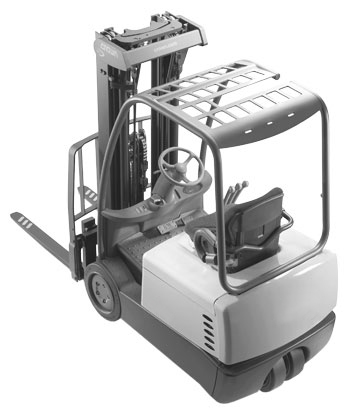 SC4500 SERIES
3-Wheel Counterbalanced Truck
3000, 3500 and 4000 lb. Capacity
The Drive is the Difference
The advantages of the SC 4500 Series are best understood from the operator's perspective.
On the SC 4500 Series, it starts with power and maneuverability for the most demanding work in trailers, on docks and all around the warehouse.
And Crown finishes the job with an Intrinsic Stability System, precise control, superior visibility and proven reliability at the lowest cost of ownership.


Power
A 36-volt electrical system controlled by Crown's state-of-the-art Access 1 2 3®, Comprehensive System Control. Crown's exclusive Access 1 2 3 Comprehensive System Control enables safe, reliable, industry-leading lift truck performance and diagnostics through an intuitive method of communication. Guaranteed.
Drive Unit/Drive Motor
Crown-built AC drive motors match motor performance for the task. The demand for high-efficiency systems that closely match customer's torque requirements is met with this generation control system.


CROWN RIDER PALLET TRUCK SERIES

GPC3000




Low-Level Order Picker with Platform Lift 2000 kg Capacity

A platform lift option is available on the GPC 2000 and GPC 2000S.

The operator can be raised to a height of 950 mm, allowing comfortable second level picking up to 2.7 meters.This option can be combined with single pallet lift to further enhance second level picking efficiency.




PC3600


The PC 3600 offers exceptional performance, a number of operator-minded features

and ergonomic design to increase productivity while lowering maintenance costs.




<

PC4500


The Focus: Operator Productivity

The PC 4500 features Crown's innovative electronic power steering system with the X10® Handle, proven Access 1 2 3® Technology, and powerful AC performance to deliver maximum productivity.  When you combine these elements with unmatched ergonomics, durability and reliability, it's easy to see why the PC 4500 is the best center control pallet truck available.




PE4500


The Best Investment for the Task.

Every pallet truck should be considered an investment. What's notable is when it delivers a significant return on your investment... like the Crown PE 4500 Pallet Truck Series. The PE 4500 Series ensures superior interaction between the lift truck operator and the pallet truck, and between the pallet truck and the application. Productivity, durability and uptime advantages result in substantial cost savings with a focus beyond the initial price point. The PE 4500 Series far outlasts its competitors for superior value.




PR4500


Built with the Operator in Mind

When you simply need to move pallets from point A to point B, the PR 4500 Series is the most efficient and productive choice. With features such as AC traction, power steering, variable side stance, suspended floorboard and entry bar safety switch, the PR 4500 Series gives the operator more power and confidence to work quickly and safely. With industry-leading performance, reliability and serviceability, the PR 4500 Series significantly improves throughput and your return on investment.